In June, two of The Awanui network's Gribbles Veterinary clinical pathologists took to the stage to present their papers at the national NZ Veterinary Association annual conference held in Hamilton.
Clinical Pathologist Dr Lisa Hulme-Moir BVSc PhD, and Clinical Pathologist Dr Sandy Weltan BVSc., PhD, BVSc. (Hons), MMedVet (KLD), both presented to this widely attended event and gave them an opportunity to address some emerging trends and issues.
General Manager of The Awanui network's Gribbles Veterinary James Richardson says it is important for our pathologists to present at these events to share and improve knowledge with our clinician colleagues.
"It's valuable, in fact vital, for our pathologists to showcase their work to the industry and use it as a platform to educate and to improve service delivery." says Richardson.
The paper and a summary of the two presentations are below.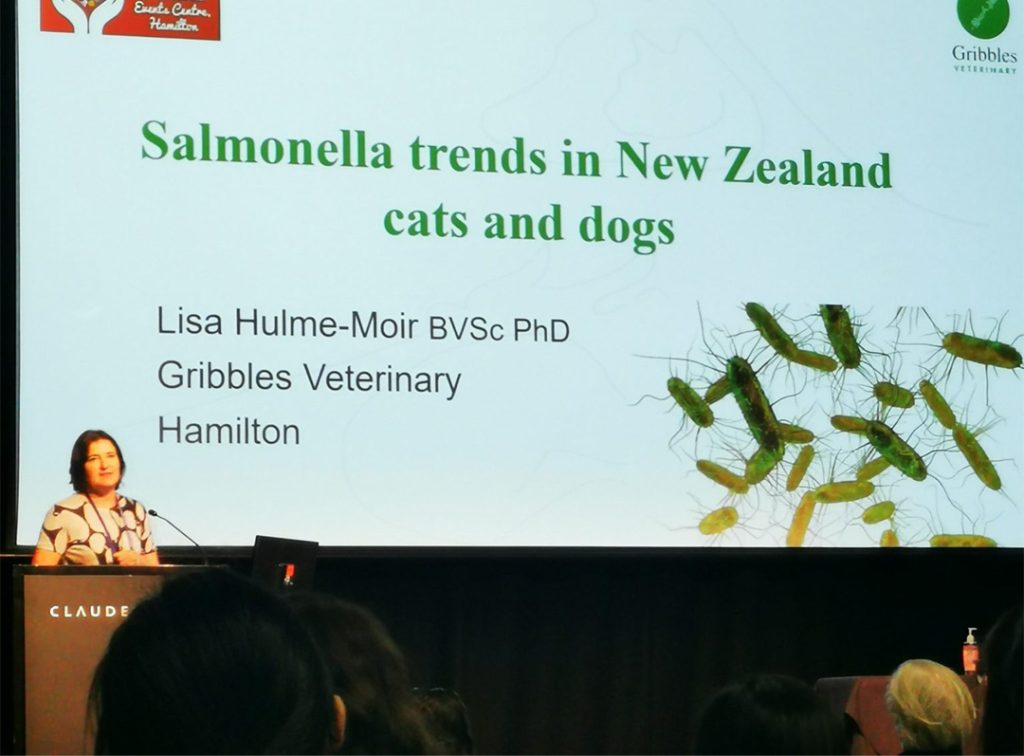 10 years of Gribbles data reveals Salmonella trends in our pets
Dr Lisa Hulme-Moir, based in our Hamilton laboratory, presented on Salmonella trends in our cats and dogs by looking at 10 years of our own veterinary laboratory data and data collected by MPI's Animal Health Surveillance programme.
The purpose of her paper is to raise awareness of the changing patterns of Salmonella diagnoses in New Zealand and highlight the importance of local disease information and taking a One Health approach to clinical practice.
A One Health approach recognises the health of humans and animals is connected to each other and to the environment that we share. CDC One Health Factsheet.
Dr Hulme-Moir's paper can be read here.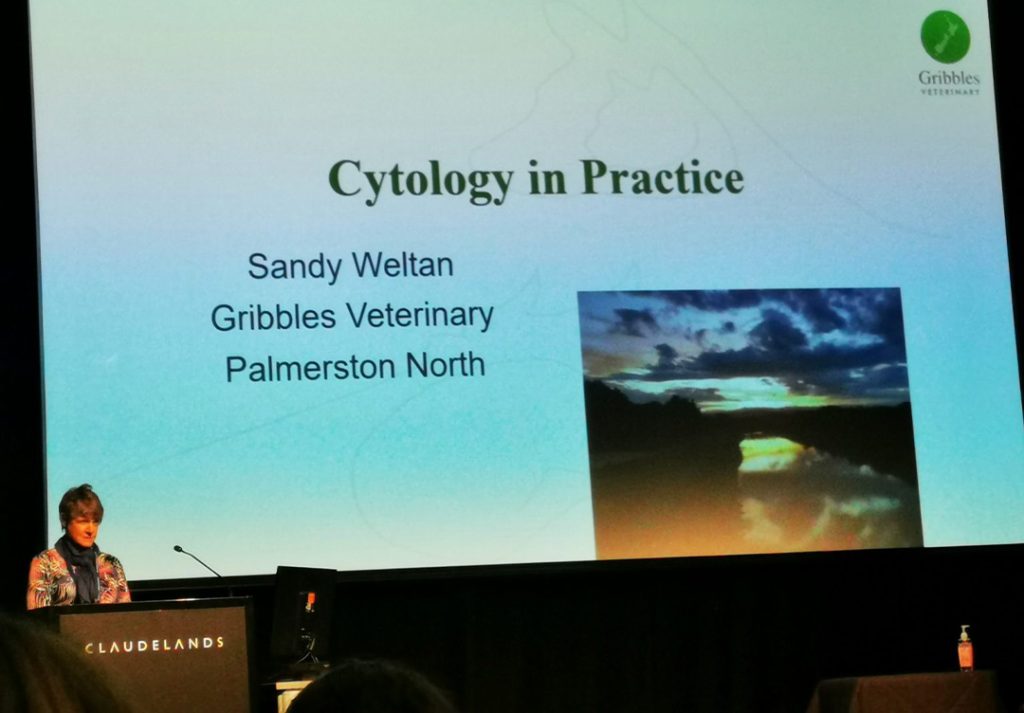 Producing high quality samples for diagnosis
Dr Sandy Weltan, based at our Palmerston North laboratory, presented on Cytology in practice – optimising slide quality. The aim of her presentation and paper is to address the mutual frustration for clinicians and pathologists from non-diagnostic samples.
""Over the last two decades, cytology has become an increasingly valuable tool in our diagnostic repertoire. It is quick and simple to perform and gives rapid results, is inexpensive and minimally invasive."" – writes Dr Weltan.
However, non-diagnostic or poor-quality cytology samples are a frequent source of frustration, for both veterinarian and pathologist. There are many causes of non-diagnostic samples, some of which are out of the control of the clinician, but many of which are technical issues.
Dr Weltan presented to an engaged audience on useful tips, guidelines and good practice to help produce diagnostic high-quality cytology samples.
Dr Weltan's paper can be read here.
Gribbles Veterinary was proudly a Silver Partner for the NZVA conference.